Who We Are
Our business dates back to 1972, when Ken Neyer, Sr., and his wife Janet founded the company. Their dedication and hard work helped make Ken Neyer Plumbing, Inc. what it is today: a reliable, excellent plumbing company that gives as much to its customers as it gives back to the community. We have four divisions at our company:
Commercial – our licensed commercial plumbing experts can handle all of your commercial property plumbing needs.
Site Development/Utilities – let our excavation pros prepare your new site for building and utility implementation. We'll then make sure your utilities are properly installed, maintained, repaired and replaced when necessary.
Residential – your home should never be without the plumbing services it needs to operate efficiently and effectively. Call us for your single or multi-family residential property.
General Plumbing Services – whether you need gas piping installed or want to get that leaky faucet finally repaired, we are the experts you can count on.
A Continuing Family Business
Jim Neyer and Ken Neyer, Jr., sons of Ken Sr. and Janet, are now in charge of Ken Neyer Plumbing, Inc.. Jim graduated from from Ohio State University (1992) with a B.A. and went on to pursue a J.D. from Chase College of Law (1995). He practiced law from 1995 to 1999, then joined the company full time in 1999. When Jim first joined the company he served as Vice-President, Purchasing Coordinator and Corporate Counsel. In 2003 Jim was named President of the company and is responsible for guiding the overall operation of the company.
Ken has worked for the company full time since 1985. He graduated from Cincinnati Technical College in 1987 with an Associate's Degree in Business Management, as well as the Cincinnati Master Plumbers Apprenticeship program in 1989. He also holds an Ohio State Contractors License. Currently serving as Vice-President and Director of Commercial operations, Ken manages our estimation and design-build departments.
Prefabrication Capabilities
One of the services that truly separates us from the rest of the plumbing professionals in the Cincinnati, OH area is our prefabrication capabilities. We can create custom plumbing assemblies for your commercial or residential property that will allow your plumbing system to work more efficiently and effectively while also cutting down on field man hours. Every component is built to match your project and we deliver on-time.
We Use the Latest Technologies for Design and Planning
Ken Neyer Plumbing, Inc. has made a major investment in specialized software and technologies to provide you, our customers, with whole-property plumbing solutions to last for years to come. We utilize Building Information Modeling (BIM) to design your plumbing system in 3D. This gives us the ability to effectively communicate and coordinate with other tradespeople as well as fabricate any needed assemblies. We use Autodesk Revit to incorporate models received from outside designs into your plans and Navisworks to mitigate potential installation conflicts before a single tool is used. Our experts access a storehouse of building information using Building Date and we create expert layouts using the Trimble Total Station. In short, we have the trained, licensed pros you need, the advanced tools and technologies you want, and the experience and reliability you can count on – call us today!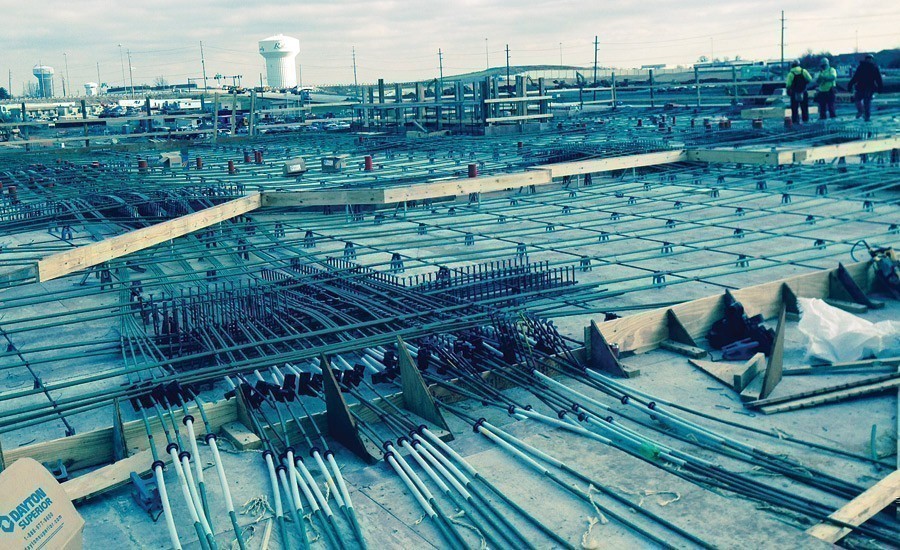 Our Commercial Plumbing Work
"Ken Neyer Plumbing excels at designing and installing plumbing systems in new commercial projects... Ken Neyer Plumbing was tasked with installing the complete plumbing systems for two central structures on the Liberty Center site, Building C and Building H. Both are five-story structures with retail and restaurant space on the ground floor, and residential units and amenity spaces on levels two through five." - Plumbing and Mechanical Magazine
Read the full details of the Liberty Center commercial plumbing project at Plumbing and Mechanical Magazine.