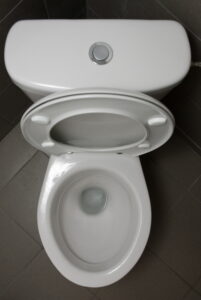 If you're frustratingly telling your computer exactly what's wrong with your toilet right now, we understand. You probably have a pretty good idea of what's the matter, but the big problem is that you're likely not a certified master plumber who can fix it the right way. And if you are, then congratulations and good luck on the fix!
For everyone else, the trick to this kind of work is not just figuring out what's wrong with your toilet, but relaying that information to a pro. You might desperately require toilet repair service, but unless you can know when to call a professional plumber to tell them you need help, you might be in more trouble than you think.
This blog post is simple. We'll talk about a few toilet problems you could be encountering, what's going on with the system, and in short sections that you can point to when a professional comes to fix your toilet.
Common Toilet Problems
Many homeowners have toilet problems split into two categories. The first is full of problems they can fix on their own, and the second category is things they can't. Well, we're here to tell you that any toilet problem, big or small, is a good enough reason to call our team for help.
A Stubborn Clog
You might be asking yourself, "why is this here? All you need is a good plunger and some elbow grease to take care of this!" While you're not wrong, there are also sometimes clogs that are way more stubborn than that.
If you've been plunging your toilet for over an hour and you're starting to cancel plans or family dinners because you're just at a loss for what to do, then it's time to call us. Not only do we have industrial-grade plungers, but we also have other tools that can help us alleviate even the strongest toilet clog.
Leaking Around the Base
This can be quite a frightening problem to have with your toilet. After all, any leaking moisture is bad news for your home, and you're probably worried about mold growing in the corners of your bathroom.
First things first, this likely is a problem with the seal under the toilet. Toilets are usually bolted down and sealed to the floor where the drain meets the interior plumbing of your home. When it starts leaking at the base, it could mean that the seal is broken or that the bowl is cracked and some water is starting to leak out. Either way, you're better off calling our team for help.
Material Is Coming Up
This is a huge problem, and one that we never recommend homeowners try to fix on their own. If you're seeing anything come up out of your toilet, then there's likely a clog or backup in your sewer system. Since your toilet is the closest fixture to the ground, aside from your tub perhaps, it's going to be the first appliance to show signs of a sewer backup. Call us for a fast fix.
It's Constantly Running
A toilet that's constantly running can usually be the result of a broken flapper that's not accurately telling the toilet when to flush and when to hold the water in the tank. Sometimes this problem can be fixed by a homeowner, but if it's reoccurring, or you're not sure what you're doing when you open up the tank, then we recommend calling us to alleviate the problem.
Contact Ken Neyer Plumbing, Inc. to have your toilet quickly fixed.