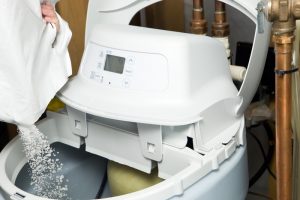 One of the important services we offer to our customers is the installation of water softeners. A water softener in Mason, OH is the best way to counteract the common problem with water hardness in the area. We live in a region that has among the highest levels of water hardness in the country, from 181 to 250 milligrams of calcium carbonate per liter of water. As a comparison, water that has less than 60 mg per liter is considered "soft."
This high concentration of hard water minerals (which also includes gypsum and magnesium) wreaks havoc on plumbing systems. The build-up of scale inside pipes causes an increase in water pressure, high incidence of leaks, and frequent clogging. Scale can also damage water-using appliances; the water heater is especially at risk. Water hardness creates nuisances inside a home, leaving a film on surfaces, causing fabrics to fade in the wash, and making it difficult to get rid of soap residue from showering and bathing.
But why does this happen? Where is this hard water coming from that makes water softeners a necessity in many homes?