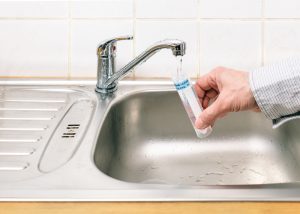 On our blog, we've addressed the problem with hard water in your home and the many different troubles it can cause: high water pressure from a drop of the volume in pipes, damage to water heaters and other water-using appliance, ugly film left on surfaces, and trouble with developing soap lather.
There is one problem we haven't talked about before, and that's how hard water affects your laundry. The minerals in hard water, such as magnesium and calcium, make it harder to use the water for cleaning. You'll notice this in the drop in soap lather. But this also leads to trouble with your laundry machine and the fabrics inside it. Clothing washed in hard water will start to lose color to fading, giving the wash an overall grayish look. The texture of the fabrics will also become stiff and coarse. If you've noticed your hair is stringy and flat because of hard water, imagine the same effect being transferred to your clothes and towels in the laundry machine.
There is also the problem of excess iron in the water, which will leave distinct stains on fabrics that are difficult to get out. Hard water also leaves deposits in the water line to the laundry machine, potentially clogging it up or leading to mechanical damage.
If you notice dull colors in your clothing after the wash, it's a strong sign that your house has hard water. If you are already experiencing other hard water symptoms, then we recommend calling us to do water testing. Although you can purchase water conditioner packages to use in your laundry machine to prevent hard water from affecting the fabrics, these don't do anything to help the rest of the house. The best solution is a whole-house solution: a water softener.
You can entrust us to find out if you have a hard water problem and then install a water softener in Cleves, OH or elsewhere in the Greater Cincinnati Area to counteract it.
Ken Neyer Plumbing, Inc. can handle all your water treatment needs.