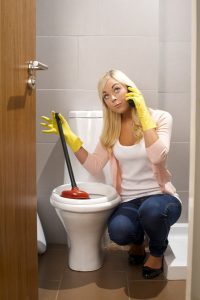 What's the best way to clear a clogged drain in your home? Two ideas probably immediately come to mind:
A basic sink plunger (or toilet plunger in the case of a toilet)
A chemical drain cleaner
A sink/toilet plunger is definitely a good idea to start with. Although these plungers won't solve tougher clogs, for simple ones they can often get the job done and don't cause any harm to the plumbing.
Chemical drain cleaners, the type you buy from stores in bottles, are not good ideas. In fact, they can end up creating worse troubles for drains and rarely address the whole problem.
When it comes to professional drain cleaning, plumbers usually rely on two different methods—hydro-jetting and drain snakes. Hydro-jetting uses powerful blasts of high-pressure water to scour the interior of a drain, and drain snakes (a.k.a. drain augers) are coils that can drill down into clogs to remove them or break them apart.
Which tool your plumber uses will depend on the type of clog and what the plumber believes is the most effective approach.