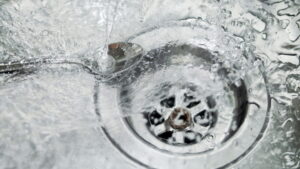 This is a question we see posted online a lot, and one that we even get from our customers. Just using a water jet to clean a drain sounds too good to be true, and with the number of scams we deal with on a daily basis, it makes sense that smart customers would be skeptical.
Well, there are many ways to think about hydro jetting. You could think about the cost-savings as opposed to investing in a different kind of drain cleaning service. Or, you could think about the science, which is what this blog post is mainly going to focus on. Scientifically speaking, hydro jetting systems are one of the most effective ways of removing clogging material from a drain system. We're not kidding, they're really that effective.
But in order for us to explain our hydro jetting in Hamilton, OH, we need to talk about water, pressure, clogging materials, and explore some of the reasons why this might feel too good to be true!
How Hydro Jetting Works
Hydro jetting is a process by which a powerful water jet is lowered into your drain and sprayed. The immense amount of pressure is almost always enough to remove pretty much anything that's clogging the drain. Since this jet is attached to a thin auger, it can usually fit down most drains and can clean even some of the hardest to reach areas of a plumbing system.
Hydro jetting uses two powerful forces together in order to achieve this goal–water and pressure. Some customers might think that we need to use chemicals or something acidic to remove the clogging material, and that water just won't do the trick. But that's just not true!
Water has the ability to erode mountains, and with enough pressure, water can clean pretty much anything without the need for chemicals or acids. This brutal combination is the same kind of combination that makes things like tsunamis and tidal waves so destructive.
Think About a Power Washer
Here's an example of how a hydro jet works. Have you ever used a power washer, or seen anyone use a power washer? Even with just pressurized water, they can completely clean and remove contaminants from house siding, a car, and even other outdoor objects. Power washers work on the same principle, and they work just fine.
Hydro jets involve a bit more trust since you can't actually see the water clean the inside of your drains. But you'll sure be able to feel the difference afterwards!
Cost-Savings and Reasons to Choose Hydro Jetting
Even if you don't buy our technical mumbo jumbo, here are three easy reasons to go with hydro jetting.
It's cheap. Hydro jetting is pretty affordable when compared to other, old-fashioned ways of dealing with drain clogs.
It's effective. It really works, and you don't have to try multiple solutions over time. This can really save you money.
It's fast. It's quick and when used by a professional, it gets the job done with minimal labor costs.
Contact Ken Neyer Plumbing, Inc. to have your drain cleared with a hydro jet!