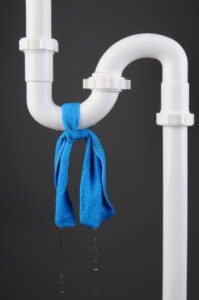 Are you confused as to what the "P-trap" might be? Well here's a cool exercise that could get you in the right mindset for this blog. Head into your kitchen where the sink is, and open up the cabinets beneath it.
Sort through some of the cleaning materials or bottles that might be down there until you see the drainpipe connected to your sink.
Most pipes in this area should look like a sideways letter "P," and if not then that might be the source of your problems!
The P-trap is a component that's well named because it looks just like the letter P.
It's designed to help your sink drain send waste to the sewer without allowing sewer gases to permeate into your kitchen and make things worse.
If you're noticing something wrong with your kitchen plumbing in Cleves, OH, then it could be a problem with the P-trap!