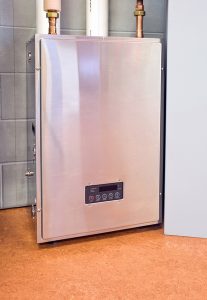 We think tankless water heaters in Cincinnati are fantastic options for homeowners looking to make upgrades to their hot water systems. The conventional water heater—a storage tank water heater—holds a supply of water in a tank and keeps it at a constant temperature for when a tap turns on. A tankless water heater doesn't store a supply of hot water at all. Instead, it heats up water when there's a demand for it.
Tankless water heaters offer a number of benefits for homes, provided professionals handle the job of finding the right sized unit and then properly installing it. If you have questions about installing a tankless water heater, please ask our experts anything and they'll be happy to help.
Below we've put down a list of misunderstandings about tankless water heaters we often have to clear up.