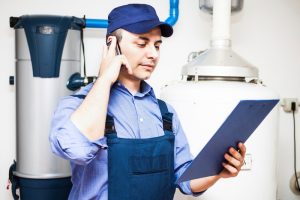 First off, we think heat pump water heaters are a great option for a homeowner to consider when it comes to shopping for new water heaters in Hamilton, OH. But we also understand that heat pump waters heater are not the ideal choice for every home and every situation. There are "cons" to go along with the many "pros" of this technology.
In this post, we're going to lay out—as fairly as possible—the case "for" and "against" installing a heat pump water heater as an alternative to the more conventional electric water heaters that use electrical resistance. You can find out more details, as well as schedule service to install a new residential water heater, by calling our office.
"For" and "Against" the Heat Pump Water Heater
The Case For
High energy efficiency: A heat pump water heater works by drawing heat from the air around the unit and then transferring it into the tank. Instead of using fuel to generate heat, the water heater is simply moving heat from one place to another—which is a more energy-efficient way of providing heat. Compared to a standard electric water heater, a heat pump model can work 2½ more efficiently and save a family more than $300 a year.
Safety: Heat pumps are safe devices that don't burn any gas, create toxic emissions, and don't even heat up on the outside when they're running.
Environmentally friendly: Heat pump water heaters reduce the amount of emissions of greenhouse gases. If everyone had their electric water heaters were replaced with heat pump water heaters, it would be the equivalent of taking 13 million cars off the road.
The Case Against
Cost: Yes, you'll have to pay more upfront to have a heat pump water heater installed than an electric water heater. The unit should pay for itself in a few years thanks to its efficiency, but the installation cost may not fit into your immediate budget.
Temperature requirements: In order to operate efficiently, the heat pump needs access to air that isn't too cold. A heat pump water heater installed in an unheated area of a house may not work efficiently in winter.
Space: A heat pump water heater is often larger than a standard electrical model. It also needs more cubic feet of space around it to allow for the airflow necessary for it to work.
Making the Big Choice
You might look at the above benefits and think they outweigh any possible negatives. Or the negative may make you think, "Nah, this won't work for me." Whatever the case, we encourage you to call our technicians to find out more details about how a heat pump water heater can work for your home. One might be the ideal answer to your water heating needs and save you hundreds of dollars a year. We'll help you make the choice that's best for your household and budget.