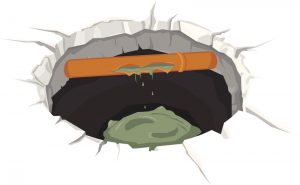 We know the words "burst pipe" is a scary one for a homeowner, especially in winter when freezing temperatures can lead to pipes bursting. You'll need an emergency plumber in Cincinnati, OH to take care of a problem with either frozen pipes or burst pipes. You can depend on us 24/7 for service to deal with this.
However, ­­­pipe bursting is a different story. It's plumbing work done to replace an old, broken sewer line. It can be an emergency job, since a broken sewer line is something that has to be taken care of immediately. But it can also be done as a precaution for a house with older piping and a sewer line made from outdated material: cast iron, galvanized steel, or clay. We recommend replacing your sewer line if you have a house built before 1970.
Why would I want to burst the pipe of my sewer line?
The phrase "pipe bursting" sounds a bit odd, we admit it. What it describes is breaking apart an old sewer line to replace it with a new one using a special type of lateral digging.
When you first think about replacing a sewer line, what comes to mind is probably digging equipment opening up a large trench to reach the old sewer pipe. This is a standard excavation technique, and many residential and commercial plumbing contractors still use it. But improved technology has come along that makes the job faster and cleaner. It's called trenchless technology, and pipe bursting is part of it.
How it works:
Plumbers excavate a small hole at the edge of the property near where the sewer line connects to the sewer main. This is the only digging necessary. Inside the house, the plumbers attach a powerful hydraulic machine. From outside, a flexible new pipeline goes into the older one; this will eventually replace the first pipeline. The hydraulic machine activates and draws the pipeliner completely through the old pipe to set it into place.
The actual "bursting" now happens. A device called a pipe burster is pulled through the length of the pipeline. It forces the liner to expand, and as it does, it shatters the external pipe. The pipeline pushes into place, becoming the new sewer line. The plumbers then attach it to the indoor plumbing and to the outdoor sewer main. The last job is to fill in the single hole, landscape it—and that's all!
If this sounds like it requires much less time and work than bringing a power digger onto a home's lawn and ripping open big gouges on the property, you're 100% correct! Trenchless technology and pipe bursting turn a difficult and time-consuming task that leaves extensive damage in its wake into a short operation with little trace it ever occurred. The final result is a new sewer line that should work for decades without trouble.
As we mentioned earlier, not all plumbing contractors offer this service. We do! Whether you have an emergency sewer line problem or you think it's time to upgrade your house's plumbing, contact us to schedule trenchless sewer line service.
Since 1972, Ken Neyer Plumbing, Inc. has served Greater Cincinnati and the Tri-State Area with plumbing excellence.