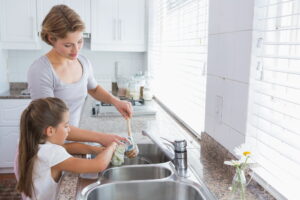 Drains; can't live with them, can't live without them, right?
We jest, drains are vital to your home but they can be a bit obnoxious. You've probably stumbled on a drain clog one or two times this year and frustratingly tried to have it cleared out yourself. Perhaps you even have different drain snakes and plungers in your home so that you can avoid clogs from being as bad in the future.
However, when it comes to drain cleaning in Hamilton, OH, nothing comes close to professional service. The only problem boils down to when you should call for professional help.
We're going to zero in on some ways that you can notice if your drain is beginning to clog. But also, feel free to call us for a video pipe inspection if you're not sure about the condition of your plumbing system. We're always available to help!
The Status of Your Drains
How are your drains doing? Are they perfectly flowing without you ever noticing that anything is wrong? Are they a little slow? Or perhaps your drains are constantly clogging and it's incredibly frustrating? These are the questions you need to be asking yourself if you want your drains to remain in good condition.
Take a look at our drain evaluation below and see where your drains stand:
They work great! Awesome! In this case, just regular plumbing maintenance is the only thing we'd really recommend for your home.
One drain is slow or clogged. If you've got one drain clog then that's really something we can take care of easily. Take a look below at how we can help your clogged drain.
All of your drains are slow or clogging. If all of your drains are clogged or slow, this could be a sign that your sewer system is backed up and needs to be cleaned ASAP.
You don't know. Not everyone knows exactly how their drains are. Why not use video pipe inspection to find out?
Video Pipe Inspection Is a Great Tool
If you're a bit unaware of the condition that your drains are in, then there are tools out there to find out. We offer video pipe inspection, which is a great service for homeowners who want to take a deep dive into the quality of their plumbing system. You'll be able to see firsthand if there are any developing clogs, leaks, or other problems.
How We Can Help
First of all, if you've signed up for our video pipe inspection services, then that's a great first step. But there are some additional things we can do to help you.
Plumbing Maintenance. Yearly plumbing maintenance is an easy way to mitigate any clogs, leaks, or backups that your drains might encounter.
Industrial-grade drain snakes and plungers. Our equipment is better than the equipment homeowners have access to. We can get rid of your drain clog no matter how large or complex it is.
Hydro-jetting. Pressurized water at the end of an auger can be just what your plumbing system needs to be thoroughly cleaned of any and all contaminants.
Need help with your drains? Contact Ken Neyer Plumbing, Inc.