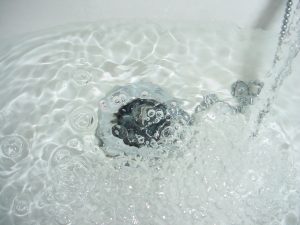 In our last post, we surveyed common reasons for drains clogs in your house. First on our list was hair. Tangles of hair are the biggest cause for the drains in your bathrooms to turn slow or stop draining completely. Because hair clogs are tough the eliminate using household methods like a plunger or a hand-cranked drain snake, often you'll need to contact a plumber in Cleves, OH for professional drain cleaning.
As much as we'd love to have your business for drain cleaning, we'd also like to help you stop drain cleaning troubles in the first place. Here's some advice on how you can stop hair clogs from happening.
Use drain covers: Are the drains for the shower, tub, and bathroom sink simply open? That allows hair an easy path, and it also makes it easier for other objects to slip down there. (Wedding rings are probably the most unfortunate victim of an uncovered drain.) A basic mesh cover bought from a hardware or home improvement store will do wonders at stopping hair from going down the sink, as well as soap scum, cap tops, and small valuable items. Make sure to occasionally clean off the drain cover regularly so that it doesn't slow down the drains!
Use a drain screen: What's a "drain screen"? It's a part that does a job similar to a drain cover, but it sits down inside the drain out of sight. These hang-down screens require extra effort to install. If you don't feel comfortable trying to put one in yourself and worry about leaking around the edges, call on a professional plumber.
Keep excess hair away from the drain: How can you do that? We recommend you take a few steps like brushing your hair first before entering the shower to remove loose strands and picking up any excess hair around the drain during the middle of your shower. Just a few precautions like this can stop more than 50% of the hair that might go down the drain.
Remember, always call for a professional plumber when you have a clog you can't get rid of.
Ken Neyer Plumbing, Inc.: Serving Greater Cincinnati and the surrounding Tri State area since 1972.