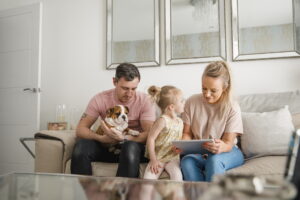 There are certain perks to calling a professional plumber when you need help. For starters, the experience and expertise of a professional master plumber is an amazing resource to have. We can spot even the most hidden plumbing problems while simultaneously giving you the best long-term solution for your home and your budget. The first and most important step towards getting excellent plumbing work done on your home is to find a pro you can trust. It doesn't hurt if you like them too!
However, one of the hidden perks to having a professional plumber on hand is the fact that they use powerful, high-tech systems to help clear your drains and complete complex projects for you. Plumbing work has advanced tremendously in the past few decades, and this blog post is dedicated to some of the technological breakthroughs we take advantage of. Call our team to have a specialist perform drain cleaning in Cincinnati, OH, and be sure to ask about our other services!
Video Camera Pipe Inspection
Back before the advent of this technology, homeowners had to rely on the word of a plumber. If you had a trusted plumber on your side, then this was a non-issue. But for many new homeowners, or for people who had just moved to a new location, this is a scary thought. There are amateur plumbers out there that will charge for work that might not need to be done–we won't lie about that.
However, things are changing quickly in the industry. Not only are licensed master plumbers or journeyman plumbers becoming more normal and trusted, but video camera pipe inspection lets you be the judge of what needs to be done. We simply lower an auger into your drain with a camera attached to the end. Then, we can physically show you what's clogging your drain and talk about what should be done to remove it. Now you can trust your eyes instead of the word of a plumber, at least for drain work.
Hydro Jets
Hydro jets represent a huge leap in plumbing technology. Removing clogs used to be an incredible hassle if an industrial plunger or drain snake couldn't do the trick. Some plumbers even had to remove pipes to alleviate clogging material, because the clog would be so thick and strong that nothing could destroy it.
Well, times have changed! Hydro jets are nifty tools that can clear pretty much any drain clog, no matter how stuck it is. And, to make things even better, hydro jetting is all natural!
A hydro jet is just an auger with a pressurized water hose at the end of it. We simply lower it into the drain and spray the water at such pressure that it removes any and all clogging material.
Trenchless Technology
Are you scared of finding out that you need new plumbing lines installed underground? Or perhaps you think a drain or sewer leak might mean digging up your garden or flower bed? Well, that's a lot less likely with trenchless technology.
We can simply provide plumbing work without digging trenches, thanks to our liquid resin that can be poured into an underground pipe to reinforce it and create a new pipe lining that lasts for a long time.
Call Ken Neyer Plumbing, Inc. to learn about the high-tech plumbing solutions we offer!