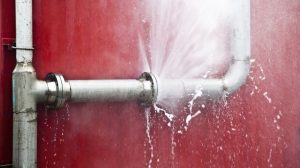 A good plumber is available to help you with a wide range of scheduled plumbing jobs, such as doing leak detection to find hidden leaks, regularly cleaning drains, installing new fixtures, and replacing old pipes. A great plumber is also ready to help you out in an emergency with 24-hour assistance. There are plenty of ways household plumbing can go wrong, and below are situations where we recommend you get on the phone immediately for an emergency plumber.
Water pressure drops drastically and abruptly
If you turn on taps around the home and discover the water pressure has dropped, it may be an issue with the municipal system. However, if the problem continues and your neighbors aren't experiencing similar trouble, you might have a ruptured water main. Have an emergency plumber out right away to see what's wrong so it can be fixed before it gets worse.
The toilet overflows
No question about it—an overflowing toilet is one of the plumbing problems most likely to push the panic button in a homeowner. Fortunately, if you know where the feed valve is located (the valve on the plastic tubing that leads from the wall to the toilet) you can shut off the water and prevent any more flooding into the bathroom. But you still need to call a plumber immediately: the toilet must be repaired and the potential for serious water damage stopped.
Pipes freeze
A frozen pipe not only jams up the pipe, it creates the potential for the pipe to burst. Pipe bursting occurs because of the spike in pressure that freezing creates—and trying to thaw out the pipe on your own can speed up the process! If you have frozen pipes, we recommend you move quickly as soon as you discover the problem and have professional plumbers deal with them.
Drains are slow all around the house
A single slow drain probably means you have a clog building up and should arrange for professional drain cleaning. But if drains in different rooms of the house are draining slowly, then the issue goes deeper into the sewer system. It might be clogged sewer vents, tree root infiltration into the sewer line, or another form of sewer line blockage. You don't want to hesitate calling for help, since you might end up with a sewage backup in the basement.
Water pooling in places it shouldn't
One of the trickiest problems in plumbing to find and fix are hidden leaks—and most of the leaks that might happen in a house are hidden. If you see water pooling around the base of a toilet, on the ceiling below a bathroom (i.e. a ceiling stain), under a sink, coming up between floorboards, etc., the you have a massive water leak problem. Shut off the water main to your house and summon a licensed plumber, no matter the time of day.
For emergency plumbing, or any type of plumbing in Hamilton, OH, you can trust to us. We offer 24-hour emergency service to handle any urgent problem. We'll fix the problem fast and right so it won't come back again a few days later.
Ken Neyer Plumbing, Inc.—Serving Greater Cincinnati and the surrounding Tri State area since 1972.