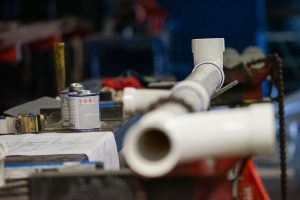 One thing that plumbers throughout the country can all agree on is that PVC works exceptionally well. While homeowners might not like the aesthetics of PVC as much as galvanized steel or copper, they quickly change their minds when they see the long-term effects and the price tag. The truth is that PVC is becoming more popular and apparent in homes throughout the country, and our area is no exception!
Today, we'd like to inform our readers about this material in regards to site utilities in Hamilton, OH. Regardless of whether you're getting new excavation done for new pipelines, or you're just replacing your old water line pipes, PVC is an excellent option that can help transfer clean water into your home.
Let's talk about why PVC is becoming more common in homes and what exactly you get when you pay for this kind of pipe installation.
What Is PVC?
PVC piping is an abbreviation for the phrase "Polyvinyl chloride," which is a type of strong molded plastic used for many of our pipes in the United States. When homeowners find out that this material is "plastic" they can be quick to judge it, but let us stop the misconceptions here!
Plastics come in various different strengths depending on the materials that construct them. For instance, vinyl siding for homes is very powerful and resilient against weathering, and that's technically a type of plastic. So, with PVC, you're dealing with one of the strongest plastic materials in the world.
PVC pipes can last a long amount of time, sometimes upwards of 10 years inside your home. They're also resilient, being able to withstand large amounts of water pressure and cleaning procedures so you don't need to worry about them breaking.
Why PVC Works for Water Lines
PVC is a great material for incoming water lines. As long as the water isn't hot, it can bring water from the city or well into your home through underground pipe systems. PVC is strong enough to withstand a lot of incoming water, so it really is a perfect material for residential main water line work.
Also, keep in mind that excavation work and the uncovering of pipe systems are expensive already, so sometimes the cheaper cost of PVC piping is worth it so you don't go over budget.
PVC Is an Affordable Solution
We briefly mentioned above that PVC is more affordable than other plumbing materials, but we didn't really say why. It's simple!
Copper and other metal piping materials take a lot of heat and energy to create. They're strong enough to deal with hot water (an advantage that PVC pipes don't have) but this added resilience comes at a huge cost to production. PVC pipes are a type of vinyl plastic, so they can be made at a very affordable cost with much less heat and energy required to mold them.
So, for large-scale plumbing projects, you'll quickly discover that PVC piping is actually one of the best ways to cut costs and keep things affordable!
Need new improvements to your home utilities and plumbing system? Then call Ken Neyer Plumbing, Inc.