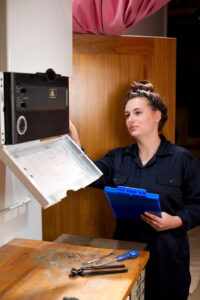 Water heaters are designed with insulation in mind. The interior of most tank water heating systems are built with glass and a metal shell to keep as much heat inside as possible. However, with insulation saving energy, more homeowners are taking this process into their own hands with varying results.
So, we wanted to talk about the specifics of water heaters in Fairfield, OH. We want to talk about some of the pros and cons that come with insulating your water heater, and most importantly, we wanted to talk about why water heater insulation is a task better left to the pros.
While there are many online tutorials that talk about nifty ways to insulate your water heater, they rarely talk about some of the mistakes that can come from an untrained person taking on this work themselves. We want to inform our customers as much as possible so nothing is left in disrepair.
Water Heaters Are Already Insulated
First, let's talk about the design of a tank water heater. We mentioned earlier that tank water heaters are already insulated, and that's true. It's the main reason why you don't see tank water heaters wrapped with insulation that often, because the standby heat loss that comes from these kinds of water heaters is minimal when they're new.
Over time, the insulating materials that keep the heat inside the tank can crack and be worn down from corrosion. If your water heater is 10-15 years old, then this is probably already happening and then you might need to replace the system.
Think About a Different Kind of Water Heater
Not every water heater needs to be insulated that well. Take a tankless water heater, for instance, these systems heat water as it enters your home, completely eliminating the need for a water tank altogether! These systems are energy efficient and they work incredibly well, so you might want to investigate this option if you're looking for ways to reduce your water's heat loss.
Also, heat pump water heaters are great because they draw in heat from your home's atmosphere and pump it into the water. Then, when any standby heat loss occurs, it just goes back into the air of your home, so you can enjoy energy-efficient heating during the winter! Heat pumps are remarkably efficient and homeowners can rarely tell the difference between your average tank water heater and a heat pump system, aside from the difference in the energy bill!
DIY Insulation Can Lead to Problems
Insulation requires a very specific set of circumstances to be installed correctly. Just a tiny bit of moisture on the ground or in the air can cause the insulation to quickly deteriorate and allow for mold growth. Insulation must be kept dry, and moisture also reduces the insulation's capacity to keep heat in.
Most water heaters are kept in basements, which can sometimes be flooded or inundated with moisture or water, depending on the season. This means that your DIY insulation is at greater risk of getting wet and developing mold.
A professional will always do what's right for your home and budget. We can help you save costs on your water heating without the hassle of mold or insulation deterioration.
Call Ken Neyer Plumbing, Inc. to learn about your water heater options!