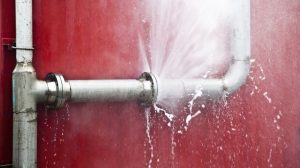 A plumbing mishap can range from small leaks and clogs to major water damage from a busted pipe. All plumbing issues require attention, but flooding from a broken pipe is one that creates a justifiable sense of panic in homeowners. Water damage can add up to thousands of dollars in repair costs and lead to the loss of irreplaceable valuables.
In case of a broken pipe emergency, you need to know how to shut off the water in your household and stop the problem at its source. Then contact professional plumbers to handle the repairs and turn the water back on when they're finished.
Know Where the Main Shut-Off Valve Is Located
If you aren't acquainted with the water shut-off valve for your house, now is the time to do it. The shut-off valve is usually located outside your home along its side, or it may be in the basement. If you aren't sure where the valve is located, contact a plumber to help you out.
Once you've found the valve, make sure you can shut it off. Some valves require special tools, like a wrench, to manipulate them. See that you have access to whatever you need to shut the valve. In case of an emergency, you'll need to turn the valve a quarter turn. Some valves that use levers require turning the lever 90° relative to the pipe. Whatever the situation, don't try to force the lever farther than it can go: these valves are designed to quickly shut when you need them to.
We Recommend Installing an Automatic Shut-Off Valve
But what if you're not home when there's an emergency that requires shutting off the water? This is real concern, and people often worry about it when they take long vacations. The answer is to have professionals install an automatic shut-off valve for the house. This device attached to the water main closes off flow to the house when it detects a sudden drop in water pressure, meaning water is escaping rapidly somewhere. The valves can also be activated by water sensors on the floor.
If you wish to schedule an automatic shut-off valve installation or you have plumbing repair needs that require a professional plumber in the Cincinnati, OH area, call our office. We have 24-hour service available.
Ken Neyer Plumbing, Inc. is a family-owned and operated full-service plumbing contractor.