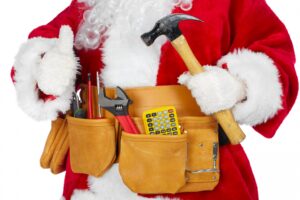 The holidays are here and the worst possible thing that could've happened, has–your drain has clogged. What a bummer.
Drain clogs unfortunately occur pretty commonly this time of year. With more people cooking, cleaning, and hosting family members with kids, we've seen many drain clogs that centered around "toys send down the drain for an adventure" and frustrated parents who don't know what to do. Well, let's nip this problem in the bud and get things figured out, preferably before your family arrives for the great big holiday dinner.
First of all, we want to talk about the importance of video pipe inspection in Cleves, OH when you're evaluating how bad the damage might be. This can be an amazing tool to help you stay ahead of any serious problems like a sewer clog. Then, we'll discuss some fun tips to help keep your drain cleared as you prepare for this holiday season.