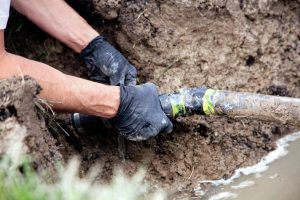 The sewer line that runs from your home's drainage system and then out to the municipal sewer line in the center of the street is one of the essential components of your home—not just its plumbing system. You can't have a hygienic or pleasant home if the sewer line is blocked or damaged.
If you live in an older home, you may have an aging sewer line made of outdated material. The older your house, the more likely you have a sewer line that needs to be replaced. Here are some of the outdated sewer line materials found in homes built pre-1970:
Clay: Uncommon today, this is usually found in pre-World War II homes. However, we do have many homes of this vintage in our area.
Cast Iron: A durable material, but one that's prone to corrosion over time.
Galvanized Steel: Used up until the 1970s, galvanized steel can last about 50 years, but can also develop corrosion.
Modern Sewer Line Material
The metal used for sewer lines today is almost universally copper. Copper is corrosion-resistant (although there are forms of corrosion that can affect it), lightweight, inexpensive, and flexible enough to avoid breaking because of shifts in the ground. We recommend any home that has older material for their sewer line arrange to have the line replaced before larger problems start to occur.
Sewer line replacement isn't the major hassle that it once was. Plumbers who use trenchless technology for sewer pipe relining and sewer pipe bursting no longer need to excavate huge holes across the property to access an old pipeline. Trenchless makes the job quick and removes most of the mess. We can take care of replacing your outdated sewer line using the best in trenchless technology in Cleves, OH, so call today.
Ken Neyer Plumbing, Inc. has served Greater Cincinnati and the surrounding Tri State area since 1972.