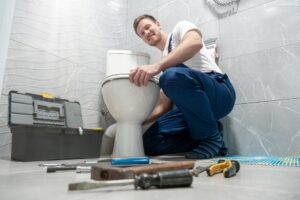 As your local team of expert plumbing professionals, we'd like to talk about a few ways that our potential customers (and our loyal fans) can start saving money today. Some of these are products and others are practices, but they can all help you save a buck or two on expenses throughout the year.
Before we get into them, we want to talk about why having a local plumber on-hand is so important. If you try to do any plumbing work yourself, or get caught in a mess that you weren't expecting, a local plumber will go a long way towards making your life easier. They've got the tools, expertise, and sometimes even just the time to address a problem that you might not be able to.
So sit back, relax, and keep reading. Just remember that a plumber in Cincinnati, OH from our team is standing by ready to help if you need it.
1. Invest in a Bidet
Toilets can be a tricky thing to discuss from a plumbing perspective. Everyone has their own way of using them and their own bathroom rituals, so we don't want to tell anyone how they should do their business.
However, bidets are becoming more popular due to the fact that they cut down on the need for bathroom tissue. These systems use clean water directly from your plumbing system to help you clean up instead of making you rely on rolls of paper that you need to buy each week. They're eco-friendly, clean, and becoming more affordable in the United States. Some can even be hooked onto your toilet directly!
However, just make sure that you've got a plumber on hand to help with any complications that come up. We can always help you connect the lines securely and make sure that there are no leaks. Plumbing is rarely a one-size-fits-all kind of job, and our team can think outside of the box to solve your problem when installing a system like this.
2. Utilize Mesh Screens on Your Drain
Your drains do better when they're not clogged up with food waste, hair, or other contaminants that you might find down there. However, it can be hard to catch these contaminants while they're spiraling down the drain. Introducing the mesh screen!
These screens can be great tools for catching clogging materials before they enter your drain. Then, they can easily be thrown out in the trash when you do weekly cleaning. You'll save money on future drain cleaning appointments, and make your life more convenient with fewer clogs.
3. Think About a Garbage Disposal
If a mesh screen isn't right for the aesthetic of your home, then why not utilize a garbage disposal? These systems allow for usual food waste to be deposited in them (like food scraps) so they can be diced up and sent to water treatment plant through your plumbing system. They're great pieces of technology and can even be eco-friendly by reducing your trash output.
For any and all plumbing assistance, contact Ken Neyer Plumbing, Inc.