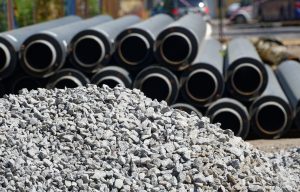 If you're looking for a team of professionals who will get your commercial new construction plumbing done well, then we're the team for you. Our name here in the Cincinnati area is synonymous with excellent plumbing work and the personal touch of a local company. While we pride ourselves on our craftsmanship, there are a few things that we often run into when talking about commercial new construction plumbing with prospective business owners.
There are various things to consider when beginning this process, from local codes to personal preferences, and even decisions between which types of materials to use for pipes. These decisions can seriously affect the next decade or so of your life as a building owner.
Let's take a look at some things to remember when considering hiring a new construction plumber.
Pay Close Attention
Buildings, whether commercial or residential, are works of art. They require precision and targeted adjustments for plumbers that are installing plumbing systems alongside new construction. That means one small mistake can trigger an avalanche of expensive problems that could spell disaster years down the line.
Of course, as professionals, we do our best to mitigate these problems and provide our expert opinion where it matters. Though, business owners must also pay close attention to what they want and what's required when dealing with new construction plumbing. Let us explain.
1. Municipal Codes
We recommend getting in touch with someone at city hall or taking a look at some of the plumbing codes that are required in your area. You can also contact us, since we're specialists, and talk about what's needed when building a plumbing system for a new structure.
Certain plumbing codes must be followed when installing drains, pipes, sinks, sewers, and other types of systems. Whether for environmental reasons or health and safety reasons, there is a reason why strict codes exist. Imagine setting up a building plan and once your plumbing system is completed, you realize there's backflow somewhere you completely missed! This type of issue must be avoided, and following the municipal guidelines is the first step towards responsible plumbing.
2. Materials
Certain materials, especially in the construction of pipes, last longer than others. Most old plumbing was made of galvanized steel, but now we have access to PVC piping and copper piping that are much more affordable, can last a long time, and aren't such a hassle when they need to be replaced.
Think about what kinds of materials you'd like to use. Ask us about the pros and cons of each material and make an informed decision when you're ready.
3. Personal Preference
While we can build from your ideas a plumbing system that works perfectly, the concept still has to be yours. When designing a bathroom from scratch, it's important to designate your own personal preferences. What type of drain would you like to have in the shower? How many faucets will there be?
These preferences can go a long way in instructing professional plumbers like us about exactly what you want and how we can both achieve the same goal.
It's exciting to have new plumbing installed! Call the team at Ken Neyer Plumbing, Inc. to make your plumbing dreams come true.