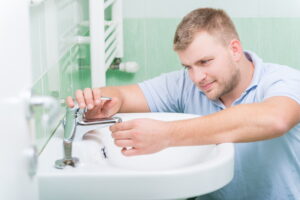 So you've just bought a new home and your problems of being a "renter" are over! Congratulations! We first want to start by saying that not everyone gets to enjoy this kind of achievement in their life, and with the shape the economy is in, it's a huge success that you should be proud of. Regardless of what shape your house is in, you've made an important decision and now it's time to put the nose to the grindstone!
New homes can often be a jungle of plumbing problems. Especially with homes that are old, (and in this area, they can be hundreds of years old) you could have plumbing components that are from different decades or centuries.
So, fret not! We're going to go over some great tips for new homeowners to analyze your plumbing system and get things back on track. This won't replace a home inspection (which you should invest in anyways) but it can help steer you towards professional plumbing services in Cincinnati offered by our team.
5 Common Issues With Old Plumbing
If you're purchasing a house then chances are it's got plumbing that's old. This isn't a bad thing, plumbing systems are designed to last for years, but it's important to figure out how old a plumbing system is when going into this purchase. If your house's plumbing system is from before the 60s for instance, than you might have some lead pipes or galvanized steel on your hands which needs to be replaced.
Over-engineered plumbing systems. The first issue with an old home's plumbing system is over-engineered pipes from amateurs or several different owners. Different people have owned the house before you, and they probably spent a different amount of money on plumbing work than you're going to. This means that they could've hired an amateur to replace some pipes, which is why things might not look so simple or labeled correctly. Unfortunately, over-engineered plumbing can be a nightmare for new homeowners when something goes wrong.
Lead or galvanized steel pipes. Lead and galvanized steel pipes haven't been used for over 60 years and for good reason. There are serious health risks associated with lead poisoning, and galvanized steel is just not as good as the materials we use today. It's important to get these pipes replaced ASAP.
Improper water treatment. If your home is inundated with hard water, or it's just not receiving the treatment it needs to be delicious and usable for cleaning appliances, then something is wrong. Take steps with our team to alleviate that problem today.
Makeshift fixes for leaks. Makeshift fixes for leaking pipes are great in the moment when you're dealing with a lot of leaking water, but for long-term usage they're pretty horrible.
Outdated water heater. When moving into a new home, make sure to check the age and efficiency of the water heater. Water heaters can be expensive, so it's important to know how much money you should be prepared to spend on your water heating system when it gets too old and requires replacement.
Contact Ken Neyer Plumbing, Inc. for new home plumbing consultations and more!