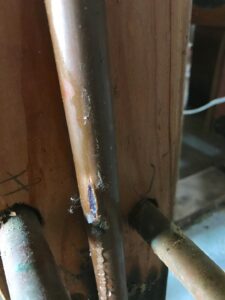 We understand that this phrase might give some homeowners a panic attack if they have experienced burst pipes before. They're some of the most awful wintertime problems that can happen to a home, and they're sometimes hard to avoid in our area.
As your go-to neighborhood plumber in Hamilton, OH, we've decided to tackle this issue head-on by telling you precisely how you could avoid having your pipes freeze and eventually burst. It's not rocket science, but it does include a bit of problem-solving. So, we hope you'll bear with us as we describe some useful tips on avoiding this kind of problem, treating your plumbing right, and making sure your home makes it safely through the winter.
Remember, if you've gotten to this blog post because you're currently dealing with a burst or broken pipe, make sure you call us ASAP. We've got the team, the tools, and the expertise to help you right now.
How Burst Pipes Happen
Burst pipes are the product of frozen water and time. As the water in your pipes freeze, it expands and causes the pipe to rupture, split, or break apart. Then, when the water thaws, it can all come gushing out when you least expect it.
Preventing Burst Pipes
The most important thing we have to tell homeowners about these kinds of pipe leaks is that they're completely avoidable. Sure, other pipe leaks that are caused by years of damage or some sudden clogging material can be harder to prevent, but burst pipes that occur from cold temperatures are easy to avoid. Here are a few ways to stop this from happening.
Open cabinets. Most of our pipes run out of sight and out of mind underneath the sink or behind other cabinets. This is fine normally, since they don't really need to be the center of attention in your home. However, when things get extremely cold, you're going to want the pipes to get a bit more heat from your heater than they normally would need. When you open the cabinets in your home, you allow for more airflow and heat to get into those spaces and you make it much less likely for your pipes to freeze.
Ensure proper airflow elsewhere. Many pipes are located in rooms of your home that might not be in use, or in a crawlspace in the basement. This doesn't mean you can't generate some airflow to allow them to be heated as well! As long as there's just enough to keep things from freezing, you should be fine.
Use pipe insulation. Did you know that hardware stores usually sell pipe insulation? You could even use a pool noodle that's wrapped around your pipe to help insulate things. Any type of insulation is better than nothing.
Drip water when you're not home. If temperatures get extremely cold, as they sometimes do in Ohio, it can be a good idea to set your faucet to drip over the course of the day. Now, this might sound like a waste, but it's actually great for preventing frozen and burst pipes. As long as water is slightly moving, it becomes harder for that water to freeze and rupture the pipe.
Contact Ken Neyer Plumbing, Inc. today if you're dealing with a burst pipe.