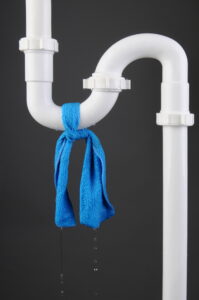 We know that a lot of homeowners haven't had to deal with repiping or other plumbing issues aside from clogs in a while. We might be your go-to team to perform drain cleaning for your clogged drain in Cincinnati, but we're a lot more than just a local drain cleaning company!
If your home has old pipes that need to be replaced, or pipes that keep getting clogged and aren't constructed from the right material, then we can help. Our experienced team of plumbers has been repiping and retrofitting plumbing systems for decades, so we know what we're talking about.
Today, we'd like to focus on one of the most well-known, affordable, and effective plumbing materials in the world—PVC. We'll talk about why you've got PVC under your kitchen sink, what makes it worth investing in, and if it's the right plumbing material for your home.
What Is PVC Piping?
When you open the drawers underneath your sink, chances are likely that you've got PVC plumbing under there. PVC stands for polyvinyl chloride, and it's a type of plastic that can easily fill the role of drain pipes and other miscellaneous plumbing.
However, you'll probably notice that the hot water pipes leading to your faucet aren't PVC. Why is that? Well, PVC is a type of plastic which means it can melt or have structural problems when it has prolonged contact with hot water. That's why PVC can only be used for drainage or for miscellaneous plumbing pipes, because it needs to last.
If you're tired of dealing with constant drain leaks and clogs, and you're looking to completely replace your drain pipes, we'd recommend PVC. It's the most affordable type of plumbing material on the market, it's effective, and it's extremely durable. Our team can provide the necessary repiping and give you an accurate estimate.
Other Options
Not all pipes are the same. Another option we steer homeowners towards is copper piping. Copper can deal with hot or boiling water, while PVC can't. Copper is also more malleable and bendable than PVC, which means it can deal with pressurized water and it tends to last much longer than PVC since it's a metal and not plastic.
There are other types of PVC materials too. There's CPVC, which is chlorinated polyvinyl chloride, a type of PVC piping that can withstand higher temperatures than regular PVC piping. However, this type of material is usually going to be better for industrial sites because it's more expensive and residential customers might find more use from copper pipes.
Call Us for Drain Cleaning or Pipe Replacement
Basically, we're trying to tell you that there are multiple different solutions to the problem of your leaky or clogged plumbing system. Our team can provide you with drain cleaning services that are effective, but if your pipes are falling apart, there's no drain cleaning service that will fix that kind of problem.
Let's talk about the materials you'd like your plumbing system to be made of. We can discuss whether copper or PVC could be a suitable replacement for your problematic drain system.
Call Ken Neyer Plumbing, Inc. for comprehensive plumbing services.