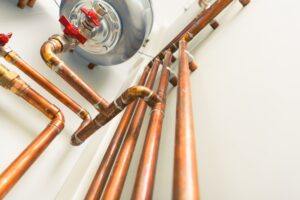 First of all, it's rare that homeowners look to an amateur for new construction plumbing. There's just so much involved that any error could spell disaster for the lifespan of the house that's being built. This blog post isn't meant for those kinds of homeowners. It's meant for the people who might feel bad about spending a little extra on professional new construction plumbing. We promise you that it's money well-spent.
If you're paying for new construction plumbing in Mason, OH, then you're looking toward the future. Nobody invests in new construction without the vision that there will eventually be a beautiful house where those wooden beams currently stand. This means you can't skip out on any plumbing costs, or that beautiful house will be leaking and struggling to provide you with basic water needs.
Let's talk about why professional new construction plumbing is always a great idea.
It's Legal and Up to Code
There's an excellent reason why laws and regulations exist for home plumbing systems. An illegally installed plumbing system will likely lead to negative effects. It can be unsanitary, contaminating the main water line. It can lead to health and safety issues when water comes in contact with the home's electrical system or gas system. There is a long list of what can go wrong with plumbing systems that aren't up to code.
You can rest assured when you spend the money on professional new construction that everything will be up to code and legal. This ensures that minimum safety requirements are met and that your home is not in danger of becoming unsanitary or a dangerous dwelling. This is good news.
It's a Great Long-Term Solution
One reality of being a homeowner is that you will always rely on your home plumbing. Any plumbing investment you make is for the long term, and it would be silly to cut corners now for subpar plumbing services knowing that you'll depend on them for years to come.
When you call our team for professional new construction plumbing, we'll ensure that no corners are cut and that everything is in good shape to be used for the next few decades. Of course, wear and tear will take its toll on the house, but we'll set you up for success in the beginning.
You'll Feel Better About It
It feels a lot better to know that you spared no expense on your plumbing system. This can substantially reduce the risk of leaks, toilet overflows, and disruptions in your life for the next few years. All of this contributes to your peace of mind and stress levels.
Even though amateur plumbing is cheaper, it can cause an immense amount of stress to your life knowing that a pipe can start leaking at a moment's notice.
It's Safe and Sanitary
Sanitation is the priority when it comes to new plumbing installations. Mold growth can cause a host of problems when moisture is allowed to leak or sit stagnant for long periods of time. Contamination can cost excessive amounts of money to fix when one pipe starts leaking into another.
Basically, professional plumbing installations in a new construction with a licensed team can help you avoid these kinds of problems early on.
Call Ken Neyer Plumbing Inc. to have your new construction plumbing installed by the best team in the business.