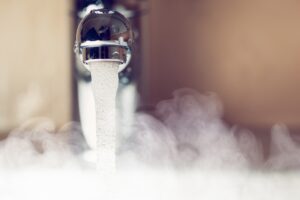 First, we want to emphasize that having no hot water is a big problem. But we'd also like to emphasize that we're the team that can help you right now with your water heater issues. No, you don't have to wait. No, you definitely don't need to search for a more professional team. We're as professional as it gets!
We'd like to reframe this water heater catastrophe as more of an opportunity. Water heaters can start to struggle, especially after they reach an older age and start suffering from corrosion. When your water heater starts showing signs of trouble, this could be an opportunity to get it the repairs it needs or simply have it replaced by a system that will treat you and your family much better.
Water heaters in Cincinnati don't have to be complicated. We'll make it simple and take you through what to expect piece by piece.
What's Going On?
When you start suffering from hot water problems, there are a lot of things that could be going wrong. Your water heater could be leaking or have a physical problem that's causing it to lose the heat and water you rely on. Check around your water heater tank and see if you notice anything out of the ordinary. Keep in mind that this can involve not just leaks you spot, but sounds, smells, and other funky things that cause discomfort.
That's not the extent of the problems you could be encountering. Water heaters notoriously have problems with efficiency the older and more corroded they get. Especially with tank water heaters, they start losing heat at higher rates than newer models, which means you're paying more money for gas or energy to keep your water warm. Notice we said "warm," not "hot," because your system could start losing effectiveness over time as well.
Take Notes of What's Going Wrong
Here's a list you can print out or keep on your computer. You can use them to check off what's wrong, or keep for when a professional water heater technician comes to help.
My water heater is leaking.
The water heater costs way too much to operate.
We have hot water for a few minutes before it gets cold. This is unacceptable.
Our water heater makes some kind of noise at night.
There's a smell coming from the basement, and we're pretty sure it's coming from the water heater.
Feel free to check off these points if you're starting to encounter them. This can be your guide to pinpointing exactly what's wrong with your water heater.
It's No Problem
When you've got the right team on the case, problems with a water heater can be dealt with easily. We're the plumbing experts in Cincinnati, and we know our way around a water heater. We want you to feel better knowing there's a team of pros like us in the area who can come to your home at a moment's notice and repair your system today. We can even provide state-of-the-art replacement water heaters that could improve your quality of life if you're looking to upgrade.
Seriously, the pros at Ken Neyer Plumbing, Inc. can help. Call us today!