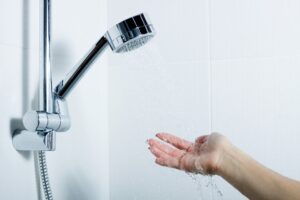 Let's take a second to welcome both the veterans of plumbing problems and those homeowners who are just hearing about this term for the first time. We don't care if you spent all night furiously searching online about your water line's water hammer problem, we're just glad you finally made it to the blog of some serious experts.
Before we get into the details about what water hammer is, how it's caused, and what you can do to help, we want to tell you that we can fix it. Our team provides water line plumbing at an affordable rate with excellent results. There's a reason why the Ken Neyer Plumbing, Inc. name is associated with superior service and quality plumbing systems.
Now let's get to the real reason why you're here. Here's to finding out everything there is to know about water hammer and hot water problems as a whole.
What Is Water Hammer?
Another term used to describe water hammer is hydraulic shock, and it's basically when the water in your water heater dramatically stops or starts moving in strange ways. Your pipes will begin to struggle as they expand, contract, and generally bounce around containing the water and steam sent from your water heater.
Notice how we said water and steam? This was on purpose.
Your pipes might not be designed for steam, and if the water that's inside of them heats up too rapidly or too much, it could turn into steam and start ascending through your home at a rate that it's not supposed to. Gas moves faster than liquid, and your pipes could see a sudden shift in pressure and temperature which causes a banging noise.
Why Is Water Hammer Bad?
Water hammer is bad because it means your pipes, water heating system, and perhaps even the frame of your home is undergoing a tremendous amount of pressure and temperature change. Over extended periods of time, this means your water heating system and your plumbing pipes associated with it will weaken structurally. Constant expanding and contracting, as well as banging against walls and other pipes, causes the material to become brittle and corrode more easily.
What Does Water Hammer Mean?
If water hammer is occurring in your home, it could be due to a variety of things. Your water heater could be overfired, which means the burner is causing the water to heat up too quickly, turn to steam, and get jetted throughout your pipe system causing things to knock around and contract rapidly.
Or, your system could be having trouble with condensate water. Usually, condensate drains back into the water heating system through the natural process of gravity. But if your pipes aren't large enough or the problem is too severe, that water could be jettisoned through your pipes without ever getting back to the water heater.
How You Can Help
Water hammer is never good, and you should always be proactive in trying to stop this problem before it worsens. Luckily, our team has the tools, expertise, and experience required to get the job done right.
Contact the Pros at Ken Neyer Plumbing, Inc. to address your water hammer problems today!