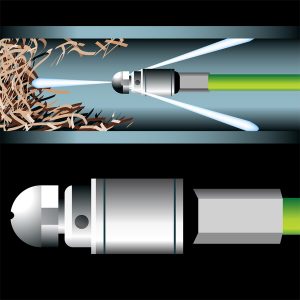 No problem in a home's plumbing is "pleasant." But it's not an exaggeration to say that a backed-up sewer line is among the most "unpleasant" problems for a household. We sincerely hope you never have to deal with a plumbing issue this severe—but we're also glad to be the ones to help you out with drain and sewer service in Cleves, OH should it ever happen to you.
There is no single reason why a sewer line will start to backup. Leave it to our plumbers to locate the source of the problem and then find out what we can do to remedy it. This may involve sewer cleaning or it might require using trenchless technology to replace the sewer line. Below are a few of the more common causes of residential sewer line backups:
Root infiltration
For most residential homes, the sewer line runs under a landscaped part of the property until crossing under the property line and out into the street. The roots of trees on the property naturally grow toward areas of moisture and nutrients—and that means growth toward the sewer line. The tree roots will infiltrate connection points on the pipeline and start to block it. The pressure from the roots may even cause the line to break. Fixing this usually requires cutting away the roots and replacing the affected pipe section.
Clogs
There's a good reason you can find many lists online of objects not to throw down a toilet: these are the items that can get caught in the sewer line and lead to clogs. (Moist wipes are a particularly serious problem: they clump together and turn into a thick blockage.) But grease, hair, and soap scum from drains around the house can also lead to sewer line clogging. (Remember, avoid pouring fat, grease, and oils down your kitchen sink!) The best way to solve this problem is with powerful professional sewer line cleaning.
Deteriorating sewer line material
There are plenty of old homes in Greater Cincinnati, and they often still have their original plumbing. Sewer lines made from cast iron and even clay are in danger of decaying and collapsing. These materials are also prone to cracking with even minor pressure. If you live in a house that's more than 40 years old, we recommend you look into having a sewer line replacement (usually with copper) before the aged pipes lead to serious issues.
Municipal problem
There are some cases where the backup isn't an issue with your sewer line, but a trouble with the municipal sewer system. There's not much you can do about this until the city fixes the problem. But if you do start to experience sewer line backups in your house, don't wait around in the hope that it's a municipal problem! This isn't something you can afford to do, so contact professionals right away.
Our plumbers are experienced in handling all types of sewer and drain issues, and can take care of cleaning, repair, and replacement services using the best in trenchless and hydro-jetting equipment.
Ken Neyer Plumbing, Inc.: Serving Greater Cincinnati and the surrounding Tri-State area Since 1972.