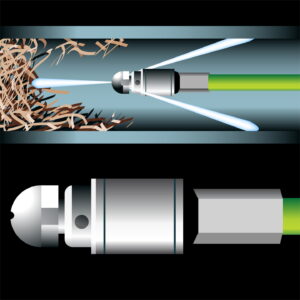 It's been a long year. We don't blame homeowners for putting their plumbing system a little bit lower on the priorities ladder than it has been in the past. There are a lot of things going on, big changes happening in people's lives, and your plumbing system might be the last thing on your mind. That's okay!
We're not here to change that. In fact, one of the best reasons to call our team is so that you can leave services like drain cleaning in Hamilton, OH up to professionals so you can remain free to tackle the important needs of your own life.
If you think your drain system needs cleaning, or you'd like to invest in yearly drain cleaning services, then keep reading. We'll talk about why this is such an important service and why it could benefit you to have it done every year.
How Drain Cleaning Works
Before we talk about the importance of regular drain cleaning, we need to talk about what happens when we perform our actual drain cleaning services. It's not like flushing a random chemical down the drain or using an average drain snake to fish out your clog. We use tested, powerful solutions that get the job done quickly.
For instance, our team proudly uses a hydro-jet system for many drain cleaning services. Hydro-jets are basically water jets that are hooked onto the end of a metal auger. They spray pressurized water that's clean, natural, but also powerful enough to remove any materials that are clogging up your drain. This type of drain cleaning method should only be used by certified professionals, so you'll be happy to know that we can take care of it quickly.
What's the Point of Regular Drain Cleaning?
So, if hydro-jetting is so powerful, why would you need it done every year? This is a good question, but it's missing the point. We might not need to use high-pressure water jets to clean your drains if you sign up for regular drain cleaning services. Regular drain cleaning services, alongside plumbing maintenance, are designed so that we only need to use one appointment each year of minimal service to make sure your plumbing system stays in good shape. If all goes according to plan, you won't need a hydro-jet system going through your drain to clear out pesky clogs!
Our team has access to industrial-grade drain snakes, plungers of different sizes, and other uniquely specialized tools that work very well at removing drain clogs and clearing out pipes. Don't call us only for emergencies: plan your year out in front of you!
Call the Professionals
There's one last caveat we'd like to mention, and that's the need for professional service. It might seem like a cheaper, better alternative to invest in an amateur or a family friend to clear your drains, but that's not going to give you the same results. Only professional plumbers like the ones on our team have the equipment, training, and expertise to clear out your drains quickly and effectively.
Ken Neyer Plumbing, Inc. has your back. Call us to schedule drain cleaning services today!