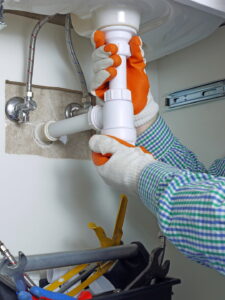 Here's a tip: plumbing doesn't have to be complicated. Sure, when you encounter a difficult problem that requires a professional master plumber, you're almost always better off making that call. But sometimes problems can border on being fixable by a homeowner or by a plumber. It's up to our customers to be able to differentiate between a problem that's able to be repaired with DIY strategies and one that requires a professional.
This blog post is dedicated to those few times when a repair might actually be fixable with the right tools on hand. From plungers, to drain snakes, and even household cleaners, you can make a pretty substantial improvement to your home's drains and plumbing system.
But just remember–nothing replaces the real deal. If you encounter a particularly stubborn problem, you should always call our team of licensed plumbers. We are always able to help with bathroom plumbing in Cleves, OH, no matter the scale or solution!
Five Time-Tested Tools
Look, not every solution is doable with just the tools listed on this blog post. But there are a few times where a little bit of elbow grease goes a long way. Try using some of these tools when you encounter a clog or a leak, and call our team if they don't do the trick.
Plungers
Did you know that manufacturers make plungers of all different sizes for different appliances? While most of our customers might only be familiar with toilet plungers, there are sink and shower drain plungers too! Try finding a plunger that fits the size or shape of your drain system, and using it when you encounter a stubborn clog. It might do the trick!
Plungers rely on creating a seal to add or remove pressure to the drain. This can simply force a clog to dislodge without harming your pipes. Isn't that cool?
Drain Snakes
Drain snakes can be made out of metal, plastic, or even rubber. They're spiky augers that fit down your drain and latch onto any clogging material. It's important to get a drain snake that's not going to disrupt or injure your plumbing materials, while also being strong enough to dislodge clogs and rope onto things like hair and contaminants.
Be gentle! A drain clog can do the trick with a little bit of time and effort. If your drain snake get stuck or if you need extra help, don't be afraid to call our team.
Household Cleaners
How are you supposed to easily identify the problem to your drain or leak without a clean workspace? Sometimes, the first and best solution to your bathroom plumbing problem is to do a bit of cleaning. Once the problem is easily identified, you might be able to find the best solution to deal with it. Or, you can simply call us to handle it!
Towels
Plumbing problems often involve a lot of water. From clogs that are bubbling up to pipe leaks, you might want to have some towels on hand to mop up the excess water. The more towels, the better. It's always better to plan for the worst-case scenario!
Your Hands!
Look, we're not telling you to put your hands in your drains. But our hands are nimble and dextrous, being the focal point for a lot of these tools like plungers and drain snakes. Don't be afraid to get your hands dirty when trying to relieve a drain clog. Your hands are your best friends!
Contact Ken Neyer Plumbing, Inc. for expert plumbing assistance when you need it.